Solutions for complex pricing
Tacton can do more than just the simple pricing required for contract manufacturing: it even permits complex pricing and job generation for project fabrication – regardless of how complex your product catalog or price structure may be.
Additionally, Tacton's solution goes farther than many other pricing solutions by proactively suggesting the optimum price on the basis of the factors designated as important: for instance, highest margin, customer value, lowest price or a weighted combination of these and other attributes.
A powerful calculation tool
Tacton's sales solution is equipped with a powerful calculation tool that enables differentiated price adjustments, discounts and margin calculation on both the overall level and on the level of individual items. When predefined discount thresholds are crossed, release processes and notifications can be triggered automatically.
Simple price updating with no downtime
As pricing information is centrally administered, changes can be made quickly and easily, with assistance from your IT team required. Price changes do not alter the logic of the product configuration. This means no downtime for programming adaptations. As a result, you can respond rapidly and flexibly to fluctuating market conditions at any time through price adjustments, discounts and special offers. The changes are automatically shared with your sales channel, ensuring that your sales team is always working with the latest price information.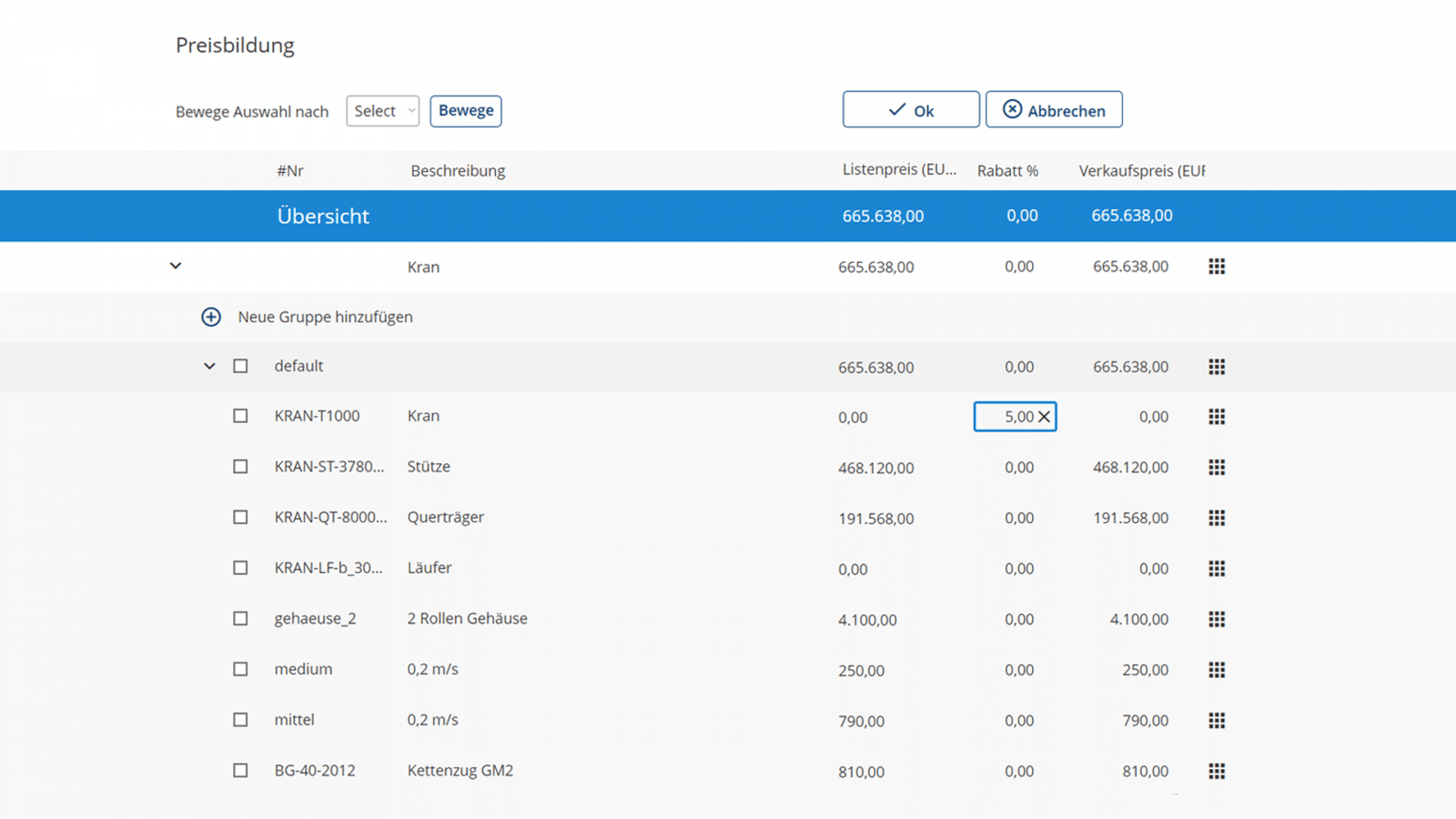 We can shorten the quotation process from four weeks to – best case – just one day. The actual generation of the quote takes just a few minutes.

Dipl.-Ing. Philipp Kasper, Head of the Products Business at BMA AG
Prices and quotations for complex products based on any price structure
Powerful calculation tool
Supports multiple languages and currencies
Value-based pricing – set your prices based on the customer and market segment
No down-time when changing the price structure
Configuration can be optimized for any desired factor, such as price or margin
Administer prices, discounts and special offers without IT support
Integration of ERP and external price systems without having to mirror the existing price structure
Related solutions that might be of interest to you:
Tacton Sales Automation is a user-friendly, web-based quotation system that permits error-free configuration, preparation of customized quotations and the ordering of configurable products. This enables sales teams and sales-channel partners to prepare accurate, high-quality quotations: easily, conveniently and in minutes, not weeks.
learn more
Software Made by Lino® for integrating Tacton Design Automation and Tacton Sales Automation with various ERP systems.
learn more
Do you have any questions about our portfolio or would you like an individual consultation? Please use the form below to contact us.
We will subsequently contact you as soon as possible and send you the requested information.
Fields marked with * are mandatory.