Software
Made by Lino®
---
Integration and productivity tools
for Design and Sales Automation solutions

End-to-end process automation
Tacton technology sets completely new standards in product configuration, revolutionizing the design, configuration and sale of complex industrial products. Lino has already implemented continuous and efficient sales and product development processes for many companies in various industries, using its expertise and the Tacton and Lino products.
The integration of the Lino 3D configuration solution into existing system landscapes was one of the first customer requirements right from the start. In combination with software made by Lino® products, applications from CAD, PDM, PLM, ERP, CRM, CAM, web and eCommerce or for mobile devices can be easily integrated with Tacton software.
The Lino Team has focused on these requirements and has developed appropriate integration and productivity tools under the brand name Software Made by Lino®. Lino GmbH is an authorized Tacton Business Partner, Solidworks Solution Partner and Microsoft Partner Gold Application Development.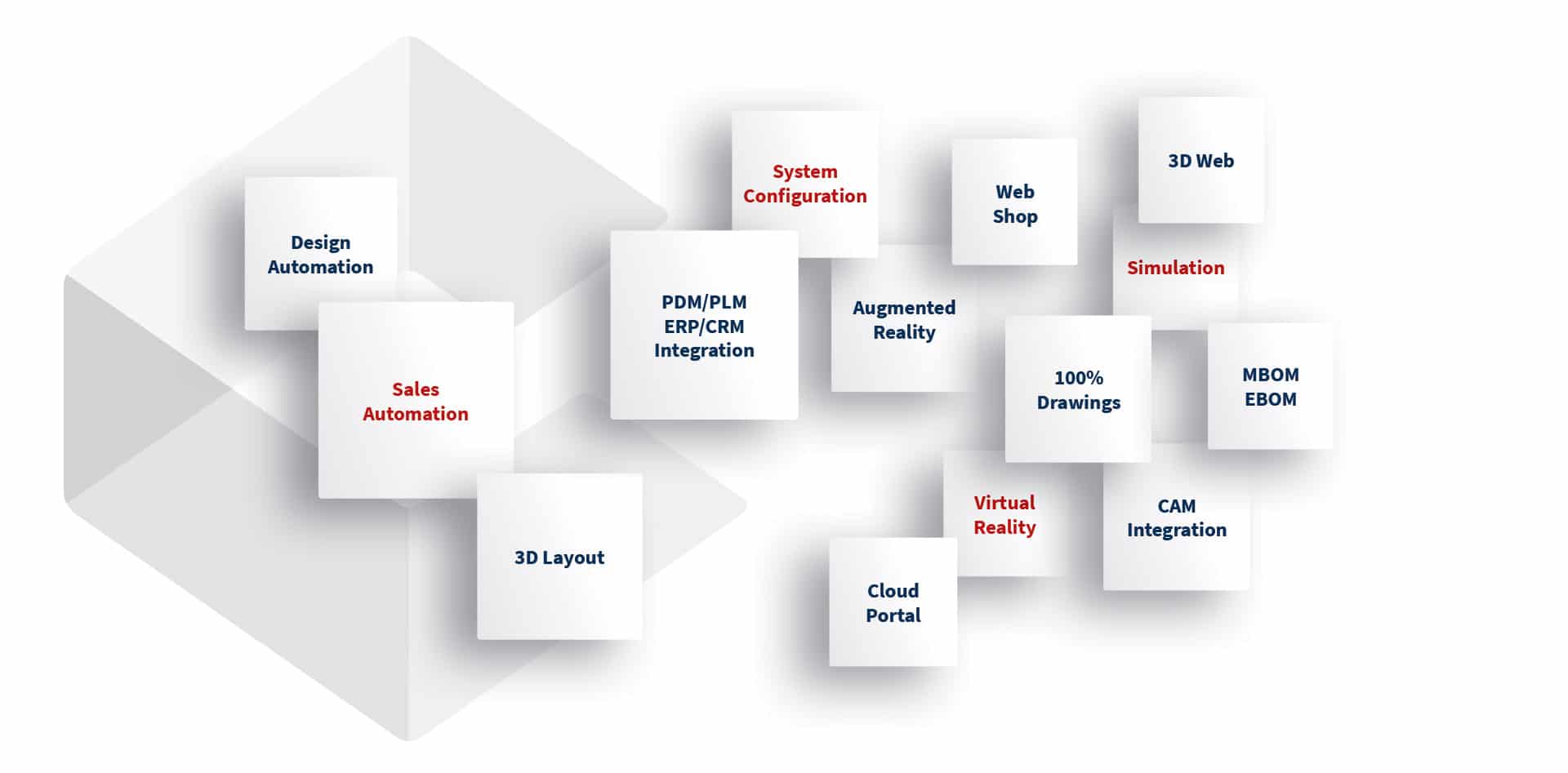 Lino® Simplify is a solution for automatic simplification of Solidworks 3D models. Companies need simplified models for a number of reasons: layouts for project planning; intellectual property protection; model or design obscuration; prevention of reverse engineering; performance improvement through data reduction and for generating web and VR graphics.
learn more
Lino® 2D fix generates consistent, configuration-specific drawings at a click, complementing design automation with a key module on the path toward creating end-to-end automated processes – and eliminates the most dreaded bottleneck in the design process.
learn more
Lino® 3D layout is fully integrated into Solidworks, enabling you to quickly and easily create meaningful 3D layout plans required for industrial plant design and distribution. With Lino 3D layout, plant components can be easily positioned, configured and assembled in one layout.
learn more
Lino 3D web is the revolutionary configurable 3D product layout and quotation tool for the Web that leverages Tacton Sales Automation! As of right now, you can empower your sales team and end customers with a powerful 3D visualization tool for quotation preparation, product layout and configuration as part of your configurator.
learn more
Lino® PDM pro is designed to integrate Tacton Design Automation and Tacton Sales Automation with various PDM/PLM systems. The integration tool is currently provided with adapters for four PDM systems (SOLIDWORKS PDM, PRO.FILE, keytech PLM, SAP PLM). The functional scope in the area of document creation is different for all adapters.
learn more
The Lino WEB api for Tacton lets you integrate the powerful Tacton product configurator simply and directly in your systems and processes. The configurator's user interface can be easily matched to the look and feel of the application used in your enterprise.
learn more
Do you have questions about our portfolio, would you like a consultation or would you like to arrange an individual live demo of our 3D configuration solution based on your models?
Please use the form below to contact us. We will subsequently contact you as soon as possible and send you the requested information.
Fields marked with * are mandatory.